When Square Enix acquired Eidos In 2009 it was quite a surprise.
The Final Fantasy publisher had not expressed any desire to make a major Western acquisition. In fact, the year before that had it tried to acquire the Japanese publisher Tecmobest known for games like Dead or Alive and Ninja Gaiden.
On the one hand, it felt like an opportunistic move. The market valuation of Eidos was low and the currency situation between the UK and Japan was favourable. But it also made a lot of sense. There were big fears that the Japanese games market was shrinking, and Square Enix wasn't sure how successful its brands might be outside of its home country.
Acquiring a company with in-depth knowledge of the European and US markets, as well as Tomb Raider and Hitman, gave Square Enix a real opportunity to become a major global player. It also felt like a decent partner for Eidos. Its core brands — specifically Tomb Raider and Championship Manager — stopped delivering meaningful results.
Square Enix was considered a master at managing and getting the most out of gaming IP. It published books, created goods, developed films (admittedly including Eidos) and had maintained major brands for decades. The deal surprised people, but it seemed to fit.
In the next 13 years Square Enix Europe (as it was now called) made several attempts to find new brands, build on existing ones, and make Tomb Raider one of the biggest games in the world. There have been some successes and several great titles, but Eidos' brands are as contradictory as ever. The return on investment was poor, and Square Enix never came close to challenging people like them EA, Ubisoft and take two.
There were some ambitious (and expensive) efforts during those years. One of the biggest was the Tomb Raider 2013 reboot. Developed by crystal dynamics and supported by a significant marketing campaign, Square Enix wanted to re-establish the intellectual property as one of the largest in the industry. Ultimately, the game would make over 14.5 million copies and become the greatest Tomb Raider of all time. But it took a series of discounts and re-releases to get it there.
In its first month, Tomb Raider sold 3.4 million copies, below expectations. There's been a lot of talk about Square Enix's high, possibly unrealistic, sales targets for its Western games. However, the company didn't look at Tomb Raider's past as a benchmark, but at what its competitors were achieving. Just five months earlier, Ubisoft had released Assassin's Confession 3 and sold seven million units in six weeks. Why couldn't Tomb Raider do the same?
Guardians of the Galaxy Trailer
Hitman was another franchise Square Enix tried to make a hit with 2012's Hitman Absolution. But like Tomb Raider, the game was another game that "fell short of sales targets." Square would experiment with an episodic hitman thereafter, but ultimately the series didn't deliver a good return. As a result, the publisher allowed the IP and its developer IO Interactive, leaving.
The only moment a game met (and surpassed) sales targets was Deus Ex: Human Revolution in 2011, but its follow-up in 2016 was a disappointment and the series was shelved. All of this, coupled with 2014's disappointing Thief reboot, led to Square Enix making the drastic decision to steer away from its own brands and instead sign a licensing deal with Marvel.
Here, too, the publisher invested significant money in the projects, used its best developer for its flagship project, Avengers, and placed great emphasis on marketing. Marvel's Avengers took over E3 in 2019, and the message was clear: this was a big deal.
But Square Enix had once again overdone it. Marvel's Avengers disappointed financially and critically when it released in 2020. 2021's Guardians of the Galaxy game fared better with critics, but also failed to chart.
"Eidos brands are more contradictory than ever. The return on investment was poor and Square Enix never came close to rivaling EA, Ubisoft and Take-Two."
As a result, Square Enix has been looking for a buyer for its Eidos business. It has held back green lighting projects and even taken on work-for-hire projects, all with support from Crystal Dynamics Microsoft's Perfectly dark reboot.
Well, these studios have found a new home at Embracer (a holding company that owns numerous studios around the world). And just like 13 years ago, it looks like a cheap offer.
We're looking at three strong developers, a diverse and large back catalogue, and the Tomb Raider brand, all for $300 million. It's significantly less than what most studios are aiming for these days. In comparison, Embracer bought transmission (admittedly not all in advance) for $1.3 billion.
The reality is that for all the big brands and critical acclaim, Square Enix's western business just hasn't been consistent or profitable enough. It spent too much and didn't deliver enough. But what Embracer offers through its various subsidiaries is a way to address all of that.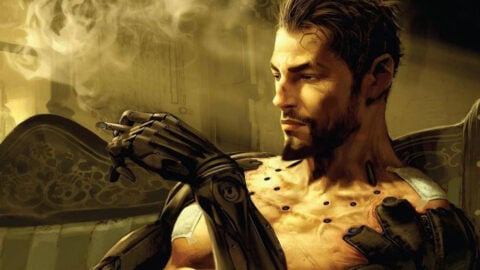 A good template for Crystal Dynamics, Eidos Montreal and Square Enix Montreal is its former sister studio: IO Interactive. This developer has focused on his Hitman IP, he speaks directly to his fans and he has learned to do things faster and cheaper. As a result, Hitman grows again, IO expands, and it's balanced secured the James Bond license.
That's what these other ex-Square Enix studios have to do. They need to find a way to be more sustainable while still meeting player expectations. And they must learn to make the most of their legacy brands, whether through full remasters or digital re-releases. And thanks to sister companies like cooking media, THQ NordicTransmission, Interactive saber and so on, they now have the know-how around them to do all of that.
Embracer's model, which is basically a group of companies operating largely independently, could be just the ticket for these old Eidos studios. You can still get many of the benefits of being part of a larger group without having to deliver massive Western growth for a large Japanese parent company.
Let's just hope we won't be back here in 13 years.