Over the weekend, a leaked build for the Chromium-based Edge browser has been released that is providing users with their first look at the upcoming browser from Microsoft. If you are currently using Chrome, the reports indicate that this Edge preview browser feels, performs, and has basically has the same features.
Microsoft has been quiet regarding their upcoming Microsoft Edge Insider browser, but a slow trickle of leaks has provided a bit more information. With this leaked build, though, users get their first full look at the upcoming Edge browser, which from all reports feels like it has the best chance of putting a dent in Google Chrome's market share.
While many people are concerned that Microsoft switching to Chromium could put all the control into Google's hands, when it comes to desktop operating systems, this may have the reverse effect.
As Windows dominates the desktop/laptop OS market and if Edge performs and offers the same features as Chrome, including full access to Chrome's extensions, many users may just use Edge instead. This could offer more control to Microsoft who may be able to influence how the browser is developed and what new web standards are pushed.
This may not be a good thing for other browser developers, such as Firefox or Opera, at least it could spread some of the control among multiple organizations.
Taking a look at the Microsoft Edge 75 Browser
The leaked Edge build is based on Chromium 75 and has an internal version of 75.0.107.0, which is slightly behind Chromium's Canary version of 75.0.3744.0.  When started, Edge will ask if you wish to import data such as favorites, autofill information, and history from Chrome.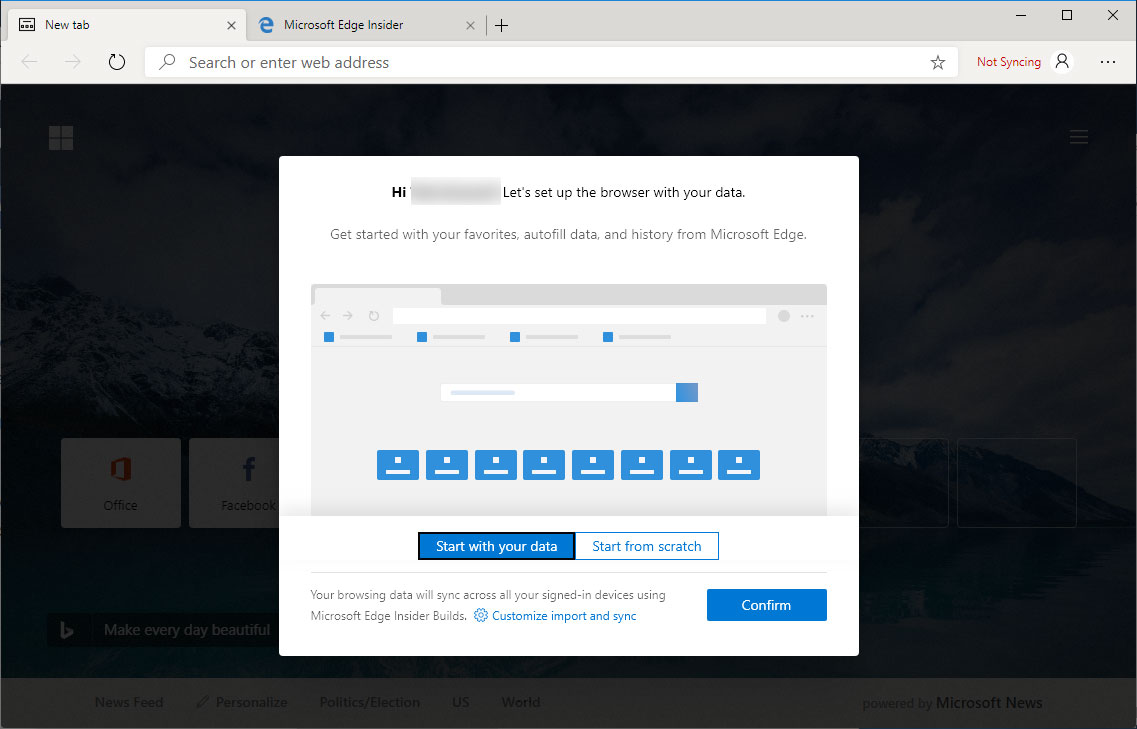 Users who have tested the leaked build  have also stated that browser performs really well when browsing the web and that it is more than ready for public preview.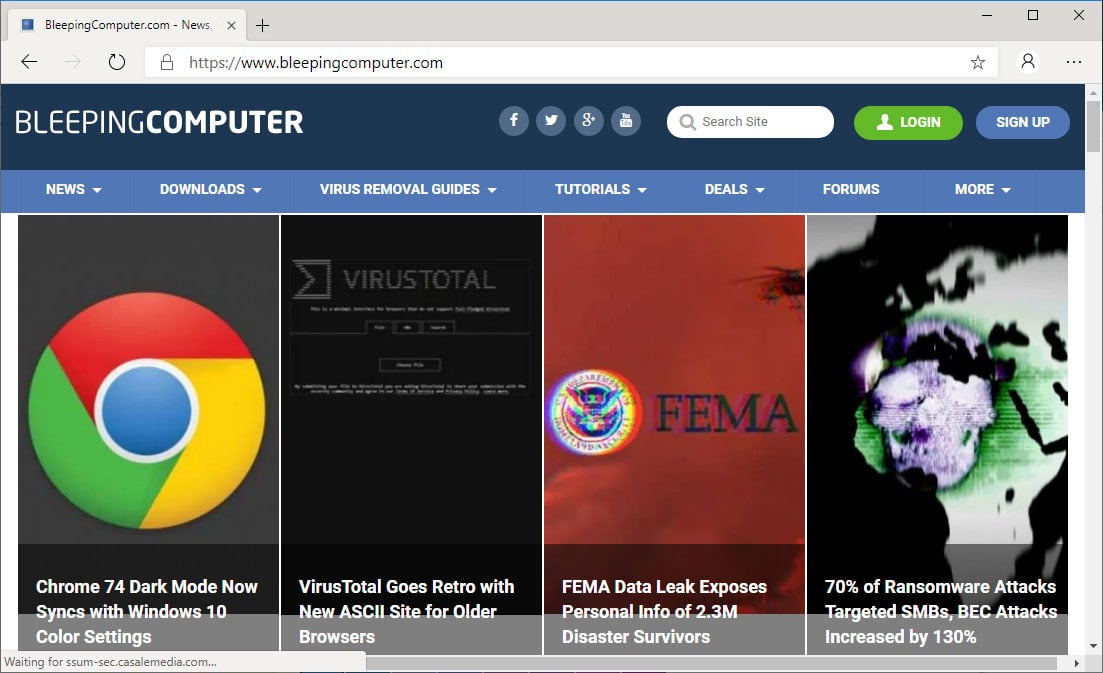 Microsoft has modified the layout of the browser to make it feel more like a Microsoft application. For example, the Settings pages have a left hand navigation bar similar to other Windows 10 apps. 
Microsoft also included their own services into the browser. For example, Google Safe Browsing has been removed in favor of Microsoft's SmartScreen.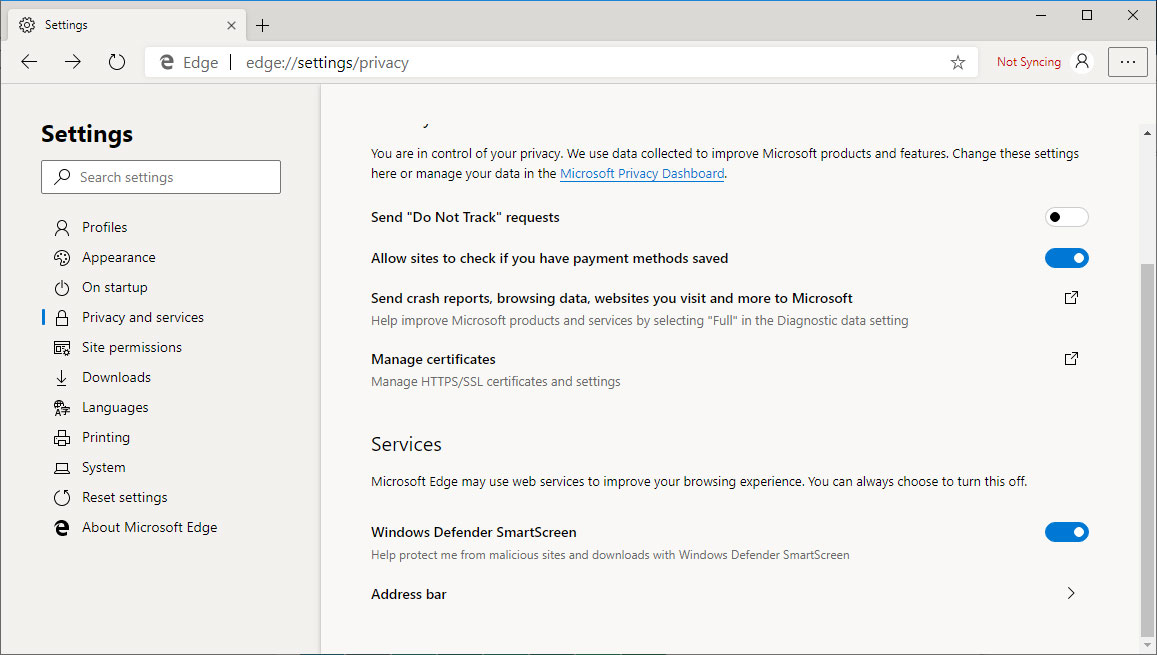 Edge supports Chrome Extensions
In addition to setting up a dedicated Microsoft Extension store, Edge also allows users to enable the installation of extensions from Chrome's web store. While they state that these extensions are unverified as a warning, and rightfully so with the Chrome Web Store's track record, it does provide an enormous pool of extensions that users can install right from release.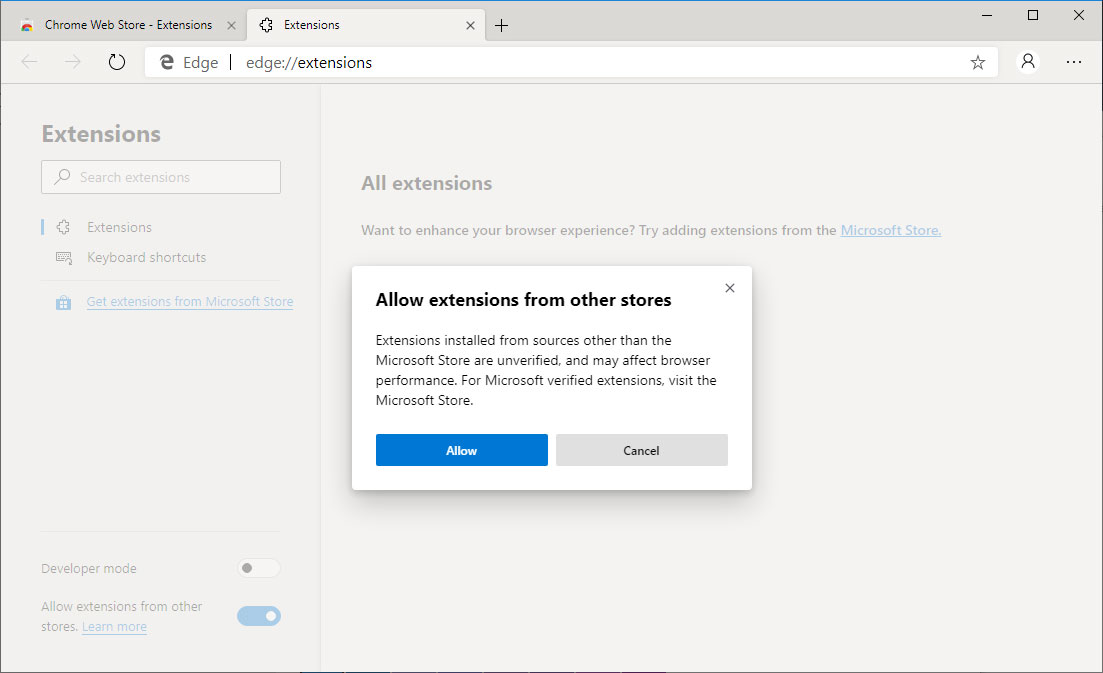 New Edge specific experimental flags
In addition to the normal features that come built into Chrome 75, Microsoft has also added their own experimental flags to the edge://flags screen.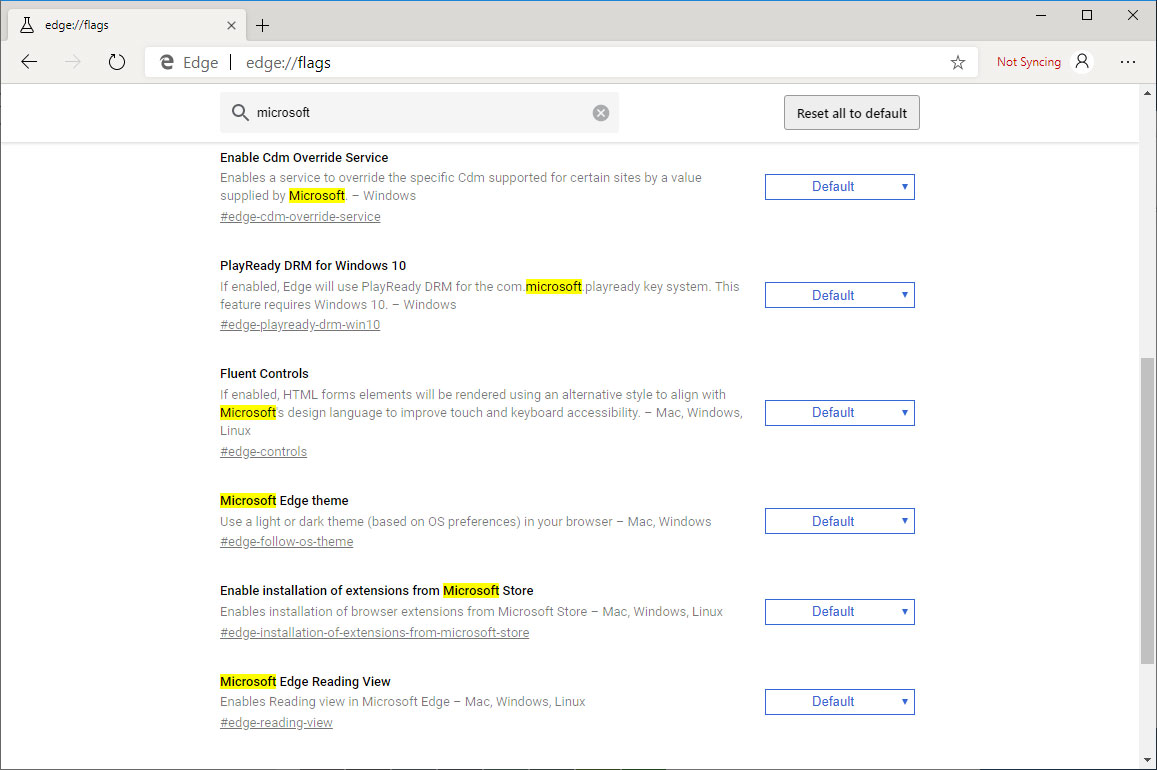 The new flags found in Edge 75 revolve around specific Microsoft technologies such as Fluent, PlayReady DRM, Edge Reading View, and more. A list of the known new experimental flags are listed below:
Enable Cdm Override Service
Enables a service to override the specific Cdm supported for certain sites by a value supplied by Microsoft. – Windows
#edge-cdm-override-service
PlayReady DRM for Windows 10
If enabled, Edge will use PlayReady DRM for the com.microsoft.playready key system. This feature requires Windows 10. – Windows
#edge-playready-drm-win10
Fluent Controls
If enabled, HTML forms elements will be rendered using an alternative style to align with Microsoft's design language to improve touch and keyboard accessibility. – Mac, Windows, Linux
#edge-controls
Microsoft Edge theme
Use a light or dark theme (based on OS preferences) in your browser – Mac, Windows
#edge-follow-os-theme
Enable installation of extensions from Microsoft Store
Enables installation of browser extensions from Microsoft Store – Mac, Windows, Linux
#edge-installation-of-extensions-from-microsoft-store
Microsoft Edge Reading View
Enables Reading view in Microsoft Edge – Mac, Windows, Linux
#edge-reading-view