Microsoft (MSFT) is considering acquiring Israeli networking company Mellanox Technologies (MLNX), as per a report by The Times of Israel. Reportedly, Microsoft has hired Goldman Sachs to carry out the negotiations. Granted that both companies operate in different domains and it may seem like an unorthodox match at the first glance, but Microsoft's buyout of Mellanox would be nothing short of a well thought out strategic move, which can potentially bolster Azure's competitiveness. Let's take a closer look.
(Source: Bigstockphoto, Image license purchased by author)
Where It Doesn't Make Sense
Generally M&As are evaluated based on how the involved companies complement each other in terms of financial, operational or competitive positioning. This is usually how companies mitigate their weaknesses and build on their strengths inorganically. However, Microsoft and Mellanox appear to be operating in different segments altogether and the latter's acquisition doesn't fit the textbook definition of an ideal M&A deal. Where Mellanox sells networking hardware to enterprise clients, Microsoft purchases this networking gear to build software and services products along with offering cloud server services in both PaaS and IaaS verticals. So, there's this broad mismatch.
Moving on to the next argument. If Microsoft is considering an acquisition of Mellanox, then ideally, we'd think that it must be impressed with the latter's products and maybe also rely on it for the bulk of its networking needs. The only problem here is that while Mellanox lists Microsoft as one of its customers, it hasn't reported the latter as a 10%-plus customer in any of its past five 10K filings. Actually, the chart attached below would indicate that Mellanox' two largest clients happen to be HP Enterprises and Dell.
Now, this doesn't hypothesize that Microsoft won't benefit by acquiring Mellanox. This line of thinking only begs the question that if the Windows-giant saw value in Mellanox' products, then it ideally shouldn't rely on other vendors for its networking gear. For starters, the chart below indicates that Microsoft is a prominent customer for Applied Optoelectronics (AAOI) — a pureplay transceiver and modules manufacturer. The only issue here is that Mellanox also makes optical transceivers, so why would Microsoft look elsewhere?
Not to mention, Mellanox is a fabless hardware play at its core. It relies on subcontractors for manufacturing its parts, modules and subassemblies. So, Microsoft won't be getting any fabrication plants with this deal and it would largely stand to acquire Mellanox' expertise, think-tank, product portfolio, established market positioning and steady cash flows in case the acquisition does go through. The downside here is that Microsoft would be susceptible to quality and yield issues; Mellanox listed this risk-factor in its 10K filing:
While we design and market our products and conduct test development in-house, we do not manufacture, assemble, package and production test the vast majority of our products, and we must rely on third-party subcontractors to perform these services. If these subcontractors do not provide us with high-quality products, services and production and production test capacity in a timely manner, or if one or more of these subcontractors terminates its relationship with us, we may be unable to obtain satisfactory replacements to fulfill customer orders on a timely basis, our relationships with our customers could suffer, our sales could decrease and our growth could be limited. In particular, there are significant challenges associated with moving our IC production from our existing manufacturer to another manufacturer with whom we do not have a pre-existing relationship.
But that's fine. Microsoft already deals with this risk-factor; it already sources networking hardware from a number of vendors. Being susceptible to supply fluctuations doesn't mean it should call off acquisitions.
Where It Makes Sense
With that said, let's now focus on the opportunities ahead for Microsoft should it proceed with the acquisition. I believe that custom architecture is one area where Mellanox would truly make a difference for Microsoft. Hardware vendors have to develop products based on industry standards and what a broad swath of customers want, but Mellanox would now be largely free to develop custom networking gear for Microsoft, without having to worry too much about whether it will attract enough buyers or not. Maybe it would allow Microsoft Azure to compete better or more efficiently with Amazon's AWS (AMZN)?
I bring this up because Mellanox chopped off its 1550nm Silicon Photonics development and laid off about 100 engineers about a year ago, largely because it wasn't able to generate sizable sales from the division. The reason for its sales not picking up, in my opinion, was that the industry standard is 1310nm while Mellanox had bet on 1550nm. Anyone closely following the transceiver industry would know that silicon photonics products are much easier to manufacture, and consequently cost far less, than typical optical transceivers and so Mellanox had to eventually let go of this superior 1550nm technology for financial reasons. With Microsoft's deep pockets, who knows Mellanox team might actually be able to restart these development efforts.
Next, Mellanox isn't limited to selling just transceivers. It's a full-fledged networking hardware provider with an extremely diverse product portfolio. With everything under one roof, Microsoft won't have to source transceivers, switches, network cards and adapters from different vendors. Mellanox does all that in addition to offering a wide range of other products. This can have several benefits for Microsoft, such as:
Cross compatibility of custom architecture across different networking hardware, and;
If Microsoft wants a piece of the architecture to be customized, it won't have to chase third party vendors for months with new tapeouts. It'll be quick with Mellanox around.
Better visibility of demand. For instance, if Microsoft is facing supply bottleneck of one particular part, then it can stagger purchases of other parts and avoid sitting on unfinished products;
Also, Mellanox is an established leader in the field. Microsoft would be getting the best of the best, whether that's in terms of hardware, intellectual property or think-tank.
Here's a market share graph to better highlight Mellanox' competitive positioning in the high-speed ethernet adapter segment: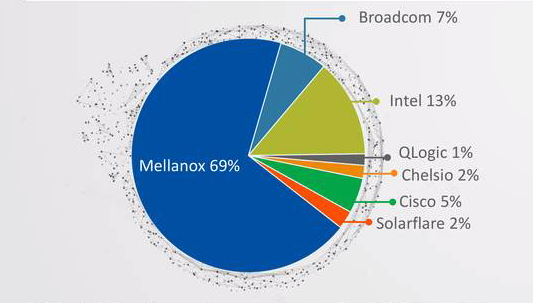 (Source: Mellanox' Investor Slides)
With that said, I'd like to point to readers that Mellanox generated about $1.04 billion in revenue over the past four quarters which is less than 1% of Microsoft's $114.91 billion figure. So, quite clearly, the acquisition won't boost Microsoft's sales figure by a notable degree at least for the time being.
However, Mellanox has been able to grow its sales at a healthy pace for the past several quarters. This at least goes to show its product strategy is working well for the overall company and that its customers are finding value in its products in spite of the industry being heavily commoditized at least on the lower end.
Takeaway
Sure, Mellanox may not seem like a good match for Microsoft at the first glance t. Where the former is a networking hardware provider, the latter is a software giant with sizable investments in the datacenter space. However, where Microsoft truly stands to benefit, is custom networking architecture. Depending on the levels of R&D and quality of execution, Mellanox can actually make Microsoft's datacenter operations (such as Azure) more competitive in terms of performance and efficiency. So, I'm of the opinion that Microsoft would be making a well-thought out strategic move by acquiring Mellanox.
Disclosure: I/we have no positions in any stocks mentioned, and no plans to initiate any positions within the next 72 hours. I wrote this article myself, and it expresses my own opinions. I am not receiving compensation for it (other than from Seeking Alpha). I have no business relationship with any company whose stock is mentioned in this article.