In a new feature tracking post for the Microsoft's Calculator GitHub project, Microsoft has stated that they plan on adding a graphing mode to the Windows 10 calculator.
One of the core components of mathematics is algebra, which includes solving equations that utilize letters to represent unknown number or numbers. The solutions to these equations can then be plotted on a graph in order to illustrate their relationships.
According to Dave Grochocki, a Senior Program Manager at Microsoft, Microsoft plans on adding a graphing mode to the Windows 10 Calculator in order to better aid students who are learning how to graph in algebra.
"High school algebra is the gateway to mathematics and all other disciplines of STEM. However, algebra is the single most failed course in high school, as well as the most failed course in community college (Washington Post). Graphing capabilities in their daily tools are essential for students who are beginning to explore linear algebra as early as 8th grade. Physical graphing calculators can be expensive, software solutions require licenses and configuration by school IT departments, and online solutions are not always an option. At present, Windows Calculator does not currently have the needed functionality to meet the demands of students."
The graphing mode is in its very beginning stages, but an image shared on the GitHub project page shows that users will be able to enter equations into Calculator and have them plotted as a graph.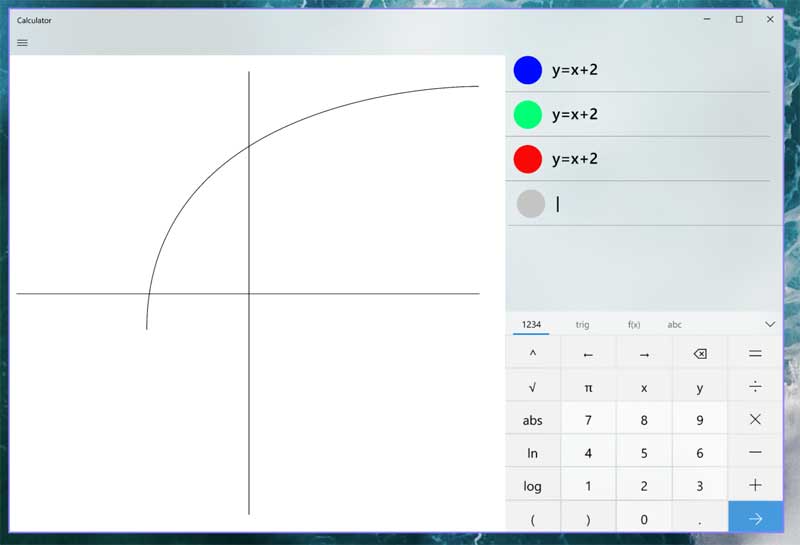 Their ultimate goal it "Provide a great baseline graphing calculator experience in Windows Calculator", which offers the following features:
Users can enter an equation so that it can be viewed on the graph.
Users can enter multiple equations so that they can compare plots against each other and see the interactions between the lines.
Users can edit equations so that they can see how changes affect the plot and correct mistakes.
Users can change the graph viewing window so that they can see different parts of the plot at different levels of detail.
Users can change line visual options so that they can clearly differentiate between multiple plots.
Users can export graphs so that they can share it with others or incorporate into Office/Teams.
Users can easily manipulate secondary variables in equations so that they can quickly understand how changes to equations affect the graph.
Users can see traceable key graph features (KGF) as nodes/dots on the equations, and summon other KGFs in a list so that they can better understand the important features of a given function.
Users can trace plots so that they can better understand the relationship between variables in the equation on the graph.
According to Howard Wolosky, a Senior Software Design Engineer at Microsoft, Microsoft has been working on this feature for about a year and plans on incorporating a third-party graphing engine to render the graphs.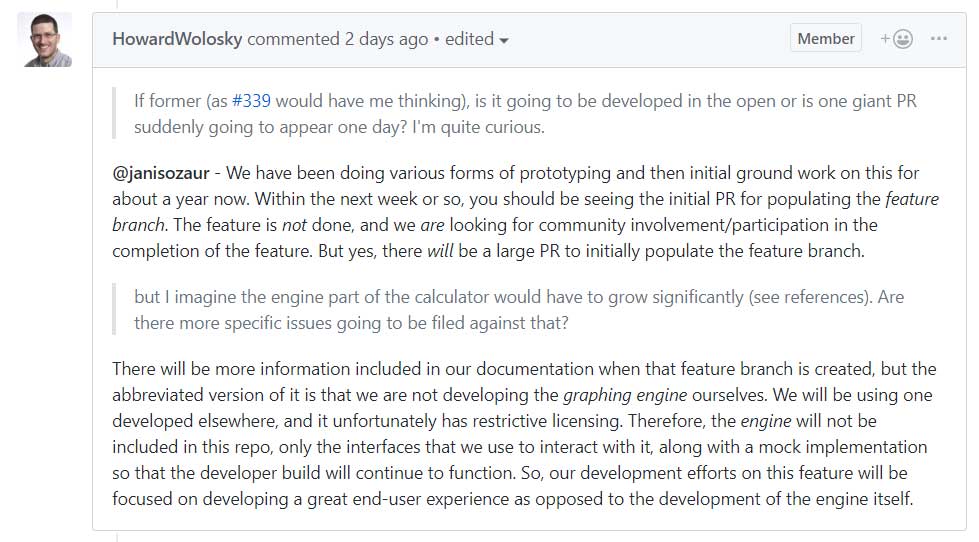 A pull request for populating this feature should be seen in about a week on GitHub.
H/T: Manuele Lucchi