Microsoft Corp. is adding to the data management capabilities of its Azure cloud with the launch today of two new services into general availability.
Company officials said in a series of blog posts that Azure Data Explorer or ADX and Azure Data Lake Storage Gen2 (ADLS Gen2) will provide Azure users with more flexibility when it comes to managing unstructured data, or data that's generated from interactions with mobile and web apps, social media and "internet of things" devices.
First up is ADX, which Microsoft introduced as a fully managed database service for carrying out real time analysis of large volumes of streaming data. The service allows users to discover and explore insights from streaming data that would normally need to be preprocessed, something that requires a significant investment if done using on-premises systems.
According to the company, ADX is able to analyze 1 billion records of streaming data per second without altering the state of that data or its metadata. That's incredibly fast, and the claim is backed up by a study by GigaOm in January that shows how the service outperformed competing services such as Google LLC's BigQuery by up to 14 times in TPC-H benchmark tests.
In a blog post announcing ADX, Microsoft Azure Corporate Vice President Julia White said the service is designed to simplify ad hoc and interactive analysis over telemetry, time-series and log data. She added that ADX can also complement other Azure services, including App Insights, Log Analytics and Time Series Insights, due to its ability to detect trends and anomalies within such data, and also diagnose problems.
"ADX also includes native connectors to Azure Data Lake Storage, Azure SQL Data Warehouse, and Power BI and comes with an intuitive query language so that customers can get insights in minutes," Jurgen Willis, director of product management, Azure Engineering, added in a second blog post.
ADSL Gen2 meanwhile is a data management service includes a repository for storing structured and unstructured data that's compatible with Hadoop Distributed file systems. It also comes with an Azure Blob File System driver that allows the data to be accessed easily.
Arun Ulag, general manager of engineering at Microsoft Power BI, said ADLS Gen2 was designed to tackle the "data explosion" by giving companies a "place to manage all of this data."
ADLS Gen2 is designed to be used with analytics services such as Power BI and Azure SQL Data Warehouse, and allows users to build "reusable ETL packages with point and click simplicity." These packages, which are stored in ADLS Gen2, allow data scientists and the like to collaborate on data without moving it around.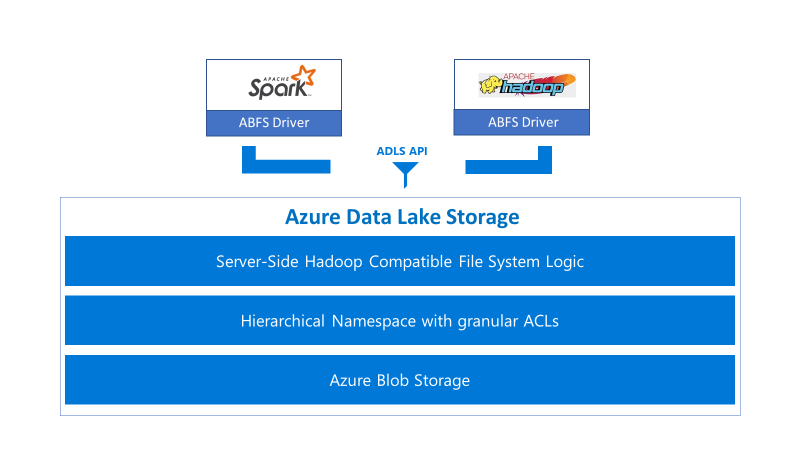 "Business analysts can seamlessly operate on data stored in Azure Data Lake Storage, taking advantage of its scale, performance, and security," Ulag said. "Meanwhile, data engineers and data scientists can extend insights with advanced analytics and AI from complementary Azure Data Services like Azure Machine Learning, Azure Databricks, and Azure SQL Data Warehouse."
Analyst Holger Mueller of Constellation Research Inc. told SiliconANGLE that Microsoft's latest Azure offerings need to be considered with the content of "infinite computing", which is the confluence of three trends: an exponential increase in available computing power; access to that power; and the precipitous fall in the cost of that power.
"Combined with the "data is the new oil" mantra, enterprises need to build next generation applications that allow them to take advantage of these new technologies so as to change business best practices," Mueller said. "It's critical for cloud providers to help enterprises in the effort, as it is not possible to size the amount of servers and storage needed for Big Data capabilities. With this background, Microsoft's Azure Data Lake Storage Gen2 can help to give enterprise exactly that capability."
Meanwhile Data Explorer will help enterprises to get a better handle on the exponentially growing amounts of live and streaming data that they need to process, the analyst added. "Both new Azure services are key components for next generation applications," Mueller said.
---
Since you're here …
… We'd like to tell you about our mission and how you can help us fulfill it. SiliconANGLE Media Inc.'s business model is based on the intrinsic value of the content, not advertising. Unlike many online publications, we don't have a paywall or run banner advertising, because we want to keep our journalism open, without influence or the need to chase traffic.The journalism, reporting and commentary on SiliconANGLE — along with live, unscripted video from our Silicon Valley studio and globe-trotting video teams at theCUBE — take a lot of hard work, time and money. Keeping the quality high requires the support of sponsors who are aligned with our vision of ad-free journalism content.
If you like the reporting, video interviews and other ad-free content here, please take a moment to check out a sample of the video content supported by our sponsors, tweet your support, and keep coming back to SiliconANGLE.