As Windows Phone Support Ends, Microsoft Steers Users Toward Integrated Office App
The Excel, OneNote PowerPoint and Word applications for the Windows 10 Mobile operating system will lose support on Jan. 12, 2021, Microsoft announced recently.
That's the date that Microsoft plans to stop offering patches, including security fixes, for Windows 10 Mobile apps in general. Additionally, the Windows 10 Mobile OS (version 1709) for Windows Phone devices is nearly dead. It will lose support next week, on Dec. 10, 2019, and patches will stop arriving.
The Office App Future
The lack of patch support increases risks for those continuing to use those apps since security holes go unpatched. Microsoft wants to steer mobile app users to its Office App instead on Windows 10, Android and iOS mobile devices. The Office App combines Excel, PowerPoint and Word into a common experience. It's also better optimized to handle various mobile tasks, Microsoft contends. The Office App was available as a preview for Android and iOS mobile device users as of last month, although the iOS preview was limited.
Microsoft began including the Office App with Windows 10 OS releases earlier this year. Back then, the Office App was described as a "progressive Web app" that use "service worker" Web technology to work with files offline.
The experience users get with the Windows 10 Office App and Office.com, Microsoft's browser-based Office suite, is pretty much the same thing, according to Bill Doll, a member of the Office product marketing team, in this November Microsoft Ignite session. The Office App has integrated search, access to people cards, and can be customized to use organizational templates, which lets organizations more easily brand created documents, such as PowerPoint presentations.
The Ignite session showed the following screenshot of the Office App for Office 365 users, which mashes up a view consisting of apps, recommendations and shared documents: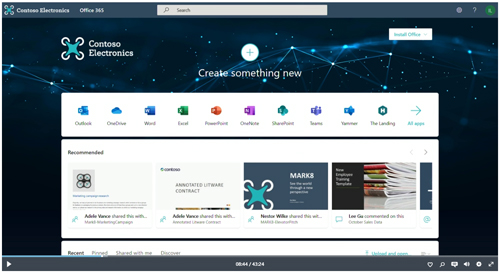 IT pros can customize the user experience of the Office App by going into SharePoint and creating an asset repository to create organizational content, said Kevin Stratvert, a Microsoft senior program manager, during the Ignite session. They can group applications accessible to end users under various categories, such as "sales and marketing," he added.
The Office App has a special "mobile view" to make reading easier compared with Office Mobile Apps, according to Nithya Sampathkumar, a Microsoft principal group program manager, during the Ignite session. The Office App is deemed "full fledged," and will even show comments in a Word document. It has a sticky notes capability. The Office Lens solution can be used with mobile device cameras to convert photos of documents into sharable files. The Office App is optimized for mobile use via various "actions" that let end users transfer files, scan PDFs or QR codes, and take actions on images.
Office App for Windows 10 and Office.com are already being used by "millions of users and thousands of organizations," according to Doll. He claimed that people love the integrated experience of the Office App on Android and iOS phones, which frees up storage on mobile devices. In addition, administrators don't need to push down as many apps to devices. Users are requesting that more integrated apps be added to the Office App, such as OneNote and To-Do, he said.
Mobile App Redesign
In a related note, Microsoft announced on Thursday that its Office apps for mobile devices, namely "Outlook, OneDrive, Word, Excel, and PowerPoint," have all been redesigned and that users can "expect new versions of Teams, Yammer, and Planner soon." The exact timing, though, wasn't described.
Microsoft is using a Fluent design system for its Office applications that developers can build upon using Microsoft's Fluent toolkit. The announcement also promised the ability of the Fluent mobile design to tap 3-D experiences at some point.
These mobile Office application redesigns are taking advantage of the Fluid Framework, announced at preview at Ignite, which is said to improve mobile-use scenarios. The Fluid Framework supports user collaborations via the Microsoft Graph, the SharePoint Framework and Office add-ins.


Kurt Mackie is senior news producer for the 1105 Enterprise Computing Group.